Mike Honeycutt
Lead Vocalist & Guitar
Mike Honeycutt is a singer/songwriter and guitarist from Raleigh, North Carolina. His love for music began at an early age while listening to tapes on console stereos and humming classic tunes in the back of his parent's car. An "unabashed southern man", Honeycutt's musical influences are as vast and rich as the tobacco fields and down-home cooking found in the state of North Carolina.
Since moving to Houston, Texas, Honeycutt has caught the attention of the local music scene. Inspired by his own life experiences, his hard-hitting songs are relatable and tell stories of triumph, faith, and passion.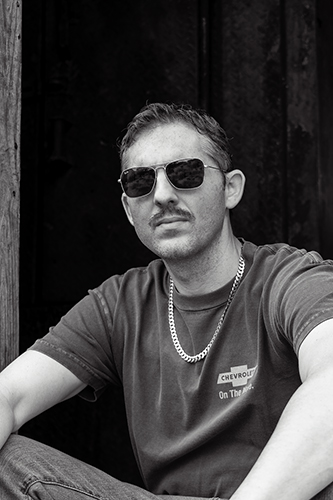 Joel Ducote
Lead Guitarist & Backup Vocals
Joel Ducote is an accomplished guitarist with over 30 years of experience. He first picked up the instrument at the age of 15 and quickly found his calling. His early influences included guitar legends Peter Frampton, Eddie Van Halen, Gary Moore, and Slash. Over the years, Ducote has honed his skills and gained recognition as a skilled performer and songwriter.
He has played in several bands across Mississippi and Texas, performing a range of genres from rock to blues. Ducote has toured throughout the United States, sharing the stage with some of the biggest names in the industry. With a passion for music and a dedication to his craft, Joel Ducote continues to captivate audiences with his dynamic guitar playing.
Michael Rod
Bassist & Backup Vocals
Michael Rod is a singer/songwriter and bassist from Houston, TX. His love for music started at the age of 5 and progressed while playing organ, piano, acoustic guitar, and singing in the choir at his church. At age 9, Michael discovered the bass guitar after being inspired by the great bass players of the 1960s,1970s, and 1980s. He honed his playing skills touring the country from New York to Los Angeles in various bands, recording a variety of music including country, hip hop, and rock, to become the accomplished musician he is to this day.
Michael brings a lot of experience and energy to the stage. For the last 21 years, Michael has been a featured artist for Simonetti Basses and has been a fixture of the Houston music scene for more than 20 years. When not rocking out on stage, Michael can be found visiting other bands, often assisting other bassists, enjoying the live music in his hometown, and traveling with his family.
Yorke Oldfather
Drums
Yorke Hails from Houston, TX. Yorke's drumming is a combination of Power and Finesse, having Studied Music and Sound Recording Technology at Texas State University in the 90s. Where he worked to create a fusion of Rock, Funk, Latin, and Jazz rhythm influences into his drumming style, which can still be heard today.
Yorke's musical interests extend beyond the drum set to being passionate about playing Bass and Guitar. A self-avowed gear nut, Yorke continues to be passionate about multi-track recording, producing, and mixing in his Home Studio, having worked on various independent projects for release.
Sounds Like?
Bridging the sounds of yesterday and today, Honeycutt Southern can be described as straight-ahead, blue-collar rock. Their lyrics are relatable and hard-hitting riffs are inimitable. Whether you've got the pedal down cruising the open road or playing a mean air guitar while at your desk, Honeycutt Southern offers savory musical goodness to satisfy your rock and roll cravings.